Remember I mentioned a few days ago about
some vintage suits
my Mum bought for me while we were out charity shopping together? Well, yesterday I finally got up the courage to learn how to take photos of myself using the tripod. It's been languishing in the cupboard for years because I've basically been too scared to try and use it. We don't have a garden, so any outdoor photos I want to take for the blog or shop have to be done on the Meadows, a
large and lovely park
just across the road. This isn't a problem in itself, but the Meadows is rather busy and also right beside 2 rather busy roads. This means any time I want to take photos, I have to bear in mind that people will be EVERYWHERE watching. Which isn't a problem in itself, but it does mean that if I've got several things to photograph at once, I have to get changed in the car (since we live up 3 flights of stairs and there's no way I'm trekking up and down them every time I want to change a skirt), whilst school kids and yummy mummies and students stroll casually by. It's not ideal really.
When I'm taking photos with Andrew, it's not so much of a problem because with 2 of you, somehow the embarrassment factor is halved. Doing it by myself though is a bit cringeworthy, especially (as was the case yesterday) when 2 random guys in a car are intently staring at you the whole time, as you run forwards and backwards between the tripod, posing, changing, tripod, posing, changing, tripod...you get the idea.
Anyway, now I've finally got it sorted (2 battery changes and almost locking myself out of the house later) here are those amazing suits! I find it really difficult not to look at photos of myself with a really critical eye. I'm guessing everyone does this, but right now all I can think is 'cankles, cankles' and 'double chin...double chin...'
This one fits me perfectly and I love the length of the skirt. I'm going to have to reline the jacket and since I still need to finish the
other jacket relining project
, it'll have to wait a while. I don't think I'd wear the skirt and jacket together too often, for fear of looking a little too much like an old lady, but both of them look awesome as separates as well!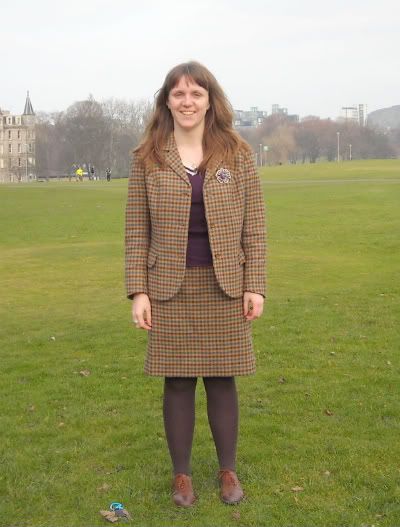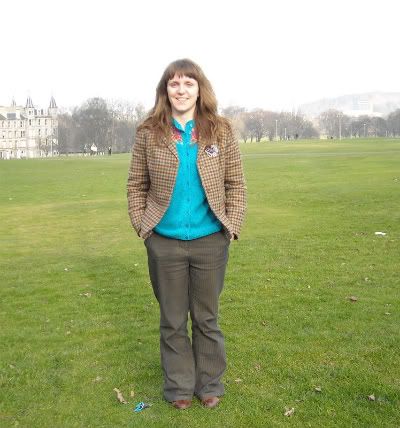 This suit is almost exactly the same material as the jacket I'm relining, which is brilliant because I wear the relining jacket so much. The skirt is that weird mid-calf, unflattering length but I'm going to take it up to the same length as the herringbone skirt above. I'm thinking of putting leather elbow patches on the jacket, just to make it a little different from my other jacket, but it's so nice I'm loath to fiddle with it too much. I love the belt as well, so cute!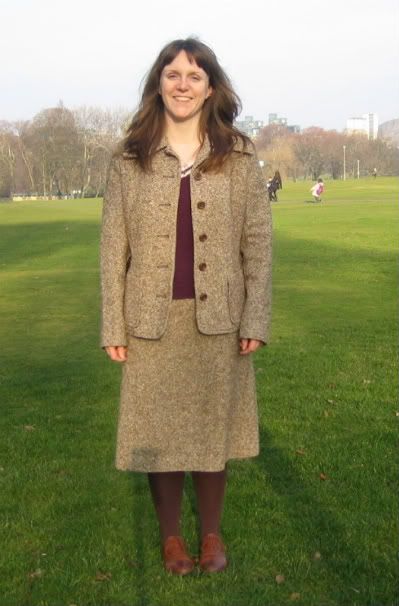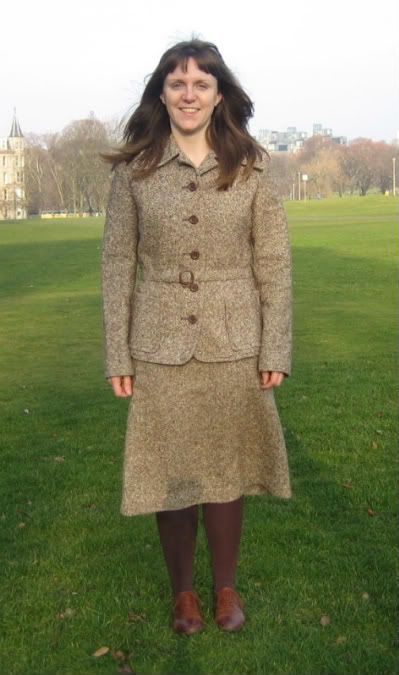 I also photographed the
amazing tartan skirts
from the same thrifting trip and took photos of the
Etsy jumpers
being worn but I'm saving those photos for another post. I think I need to learn to pose better, I feel a bit of an idiot looking at these photos, I'm just stood square on, it's not very flattering. I like how
Meghan
over on Out of Order or
Tasia
on Sewaholic look in photos, they always stand nicely so they look elegant, not heffalump-esque which is how I feel looking at these photos. Ah well, first time with the tripod, I'll learn for next time!
Ooo, my
To Dry For
order arrived yesterday and it is awesome! So chuffed with them, I want to keep them all for myself. I'm thinking of a simple plain frame for them, something like
this from Ikea
. I prefer white but I think white teatowel and white frame might be white overload. I feel a trip to Ikea coming on, yay!