Check out my
amazing thrifted tartan kilts!
These were from the charity shopping trip with my Mum a few weeks back and I bought them with the intention of putting them in my Etsy shop. The more they sit in my study though, the more I want to keep them for myself, the material is so lovely.
I've pretty much made up my mind I'm going to keep this one, it's 100% wool and I love the colours. I'm going to take it up though, to make it more wearable. It was awesome while I was taking photos, running to and from the car with it swishing around my legs, I felt like a heroine in a Scottish romantic drama novel from 200 years ago, but sensibly I'll be tripping over it if I don't take it up at least a little way. I might just take it up to ankle length though and wear it long like this
Beyond Retro
blog post about
knits and skirts
. Although on the other hand, check out this skirt over on
Preta-Porter
, £125 for a knee length skirt in almost exactly the same colours as mine! I spent £8.95 on mine, who knew I was so subconsciously stylish!
From
Beyond Retro
:
I love this one as well, especially since it's got little leather straps round the waistline (just like the blue one), it's such a cute authentic detail. Red doesn't go with a lot of colours in my wardrobe though, I wear more purples, greens and browns so if I kept this one, I wouldn't have a huge amount of top layers to go with it. Plus, I couldn't really afford to buy either of them, so I really should sell one at least! If I sell this one, it'll hopefully make back the cost of each plus a little profit so that's the plan. Just got to take some more photos of the lovely details so watch this space!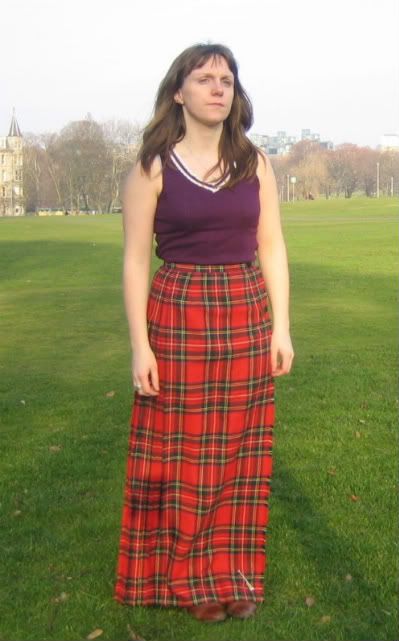 Added to Her Library Adventures flea market finds
♥