I seem to be spending a lot of time at the moment dreaming about my future craft plans, but not getting a huge amount of time to actually do any of them. It's a most depressing state of affairs,
the cardigan
is growing very slowly, the
thrifted wooden box
has completely ground to a halt and the
tapestry swallows
are feeling rather naked. I haven't even begun to think about my
2011 project plans
...oh dear...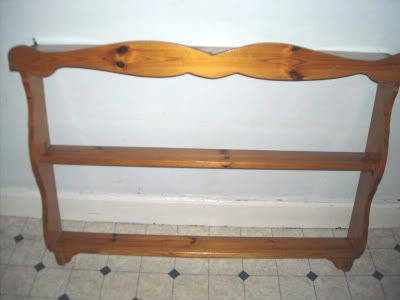 Well, dear friends, here's another stalled project, sat waiting the right time in the future. Apologies for the rubbish photo, today is rather grey in Edinburgh. I bought this from an amazingly cheap charity shop for the princely sum of £2 thinking I would paint it and put it up in the kitchen for my growing collection of thrifted and vintage crockery. I envisaged painting it duck-egg blue or soft dove grey and screwing little brass hooks for my teacups into the edges of the shelves. It was going to look amazing...until I got it home and realised that the walls in our kitchen are lath and plaster and so won't be able to take the weight of all that wood and china. Sigh.
Ah well, it's currently residing in the pantry, awaiting the next house which hopefully will have strong enough walls. Only another 18 months until graduation and house moving...
In the meantime, here's what I'm thinking it will look like in the end:
From
Shabby Chic Furniture
, this is for sideways plates rather than face on, but I love this colour. I like the sideways storage because you can get more in it, but I prefer face on because you can actually see the plates.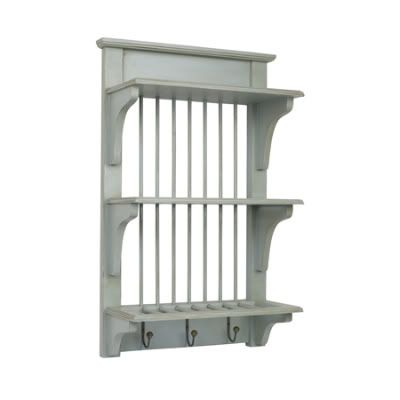 Vintage style kitchen storage
- this is what I'm thinking, but less sweet and sickly, my crockery is more a mix of colours and styles and I want to paint the storage unit a calm, neutral colour so the plates do the talking, without looking overwhelming. I love the crockery in this one though!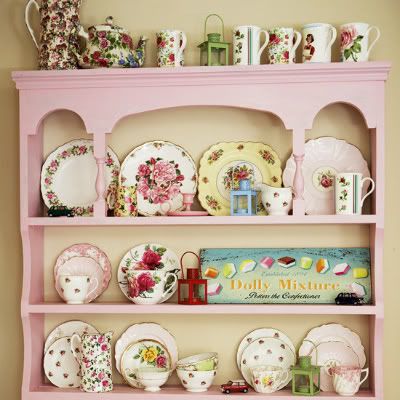 This one from
The Orchard Home and Gifts
is
exactly
what I'm thinking, right down to the colour and the 'worn' look and the backing paper (though mine's backless so I won't be able to do that). But £147.50?!? Nae way! I'll do mine for £2 plus the cost of paint thank you very much. I even already have the brass screws. Thrift at its best!