This project is so simple, it's barely even 'craft'. We've had this nest of tables for years, they belonged to Andrew's Gran and he has fond memories of them from being a small child so he's set against me doing anything to them. I, on the other hand, hate this kind of dark wood and would love to take a paint brush to them but apparently that's out so I've had to think of means of upcycling them without damaging them.
The original
The glass tops are removable so I took them off, cleaned them (tea stains galore!) and traced around them onto some paper I had in my stash. Then just popped the paper back in the table top and placed the glass on top.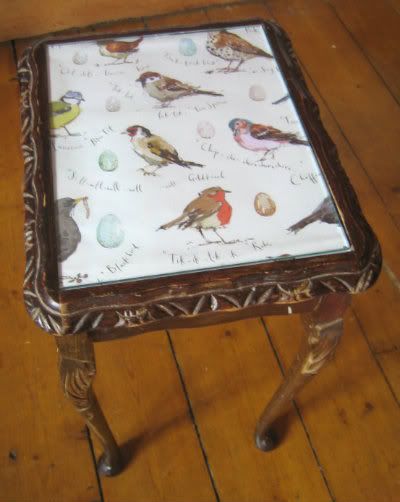 Number one: birdies. Ex-wrapping paper birdies in fact! Who says being an obsessive hoarder can't pay off?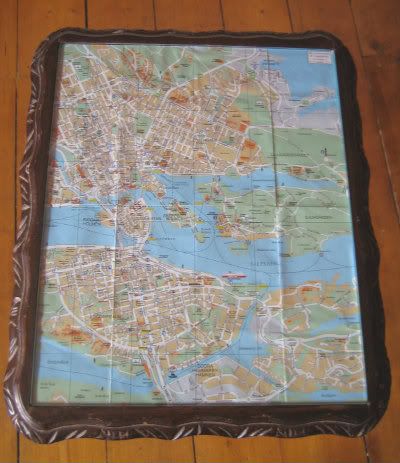 Number two: a map of Stockholm, stashed for the past 4 years. That's healthy...right...? Also, you wouldn't believe it but I spent ages ironing this map. This is what happens when you store things folded up in boxes, sigh.
I like how they've turned out, it brightens them up a bit. Ideally in the long run I'd like to do something more like this table, glueing tiles into the recess that currently holds the glass. The problem with the glass is that it's not fixed in place, so crumbs and liquids can get in and under it. It's annoying because they're awkward to clean, having to remove the glass each time and clean underneath them, and you can see the crumbs through the glass. A double whammy of annoyance. The tiles idea would solve that because there'd be no cracks for the crumbs to get into and under. I've yet to float this idea to Andrew though, not sure he'll like it...