Some random
Ben Folds
photos. My camera sadly died for the craft day but hopefully I'll be able to steal some off the photography buff in our group.
BEN FOLDS!! And the O2 Academy in Glasgow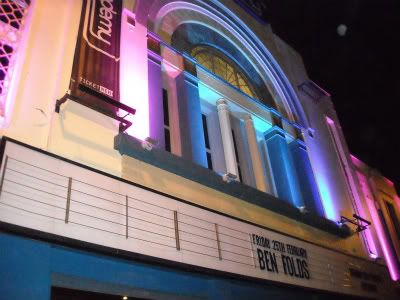 Andrew plus embarrassing Heineken bracelet he got on a stag do a few weeks ago and refuses to take off, even though it makes him look like a teenager.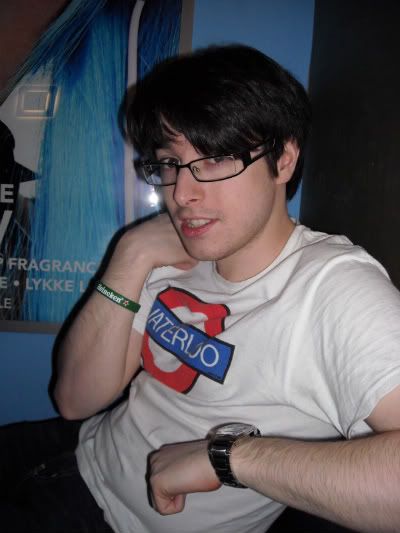 I'm honestly not drunk, no matter how much this photo suggests it!
I've found myself lacking in inspiration lately, I'm so busy with uni and still
pretty fed up
with studying in general. My Mum's been in hospital getting her pacemaker repositioned and my Grandad in Newcastle still isn't very well. Plus Andrew's really stressed out with work at the moment so all in all, life's getting a bit on top of me. I'm going to take a step back from blogging for a while, I'll still be blogging but probably only a few times a week, rather than the every day target I've been aiming for.
That being said though, I love having this blog as a place to record my crafty endeavours and share my projects and thoughts with the world. So I'm going to start a new tag called 'inspiration', where I post things, pictures and thoughts that have inspired me. I already sort of do this in my
'Things I love on Etsy'
posts and my
2011 project plans
. But 'inspiration' posts will be more random I think, just pictures I've seen or things I've read that have made me think, "I want to have a go at that". I also like the idea of the tag being somewhere I can go to for inspiration on days where I need a bit of a creative pick-me-up. I see things on blogs and flickr and google all the time that I want to print off and keep in a scrapbook for a later date, I guess this is just the 21st century way of keeping a scrapbook!
So without further ado, things I've found inspiring recently:
♥
Casey's Elegant Musings
has a lovely
video
on how to do an easy, romantic updo. Since my hair is at the length now where I can finally do things with it, I'd love to have a go at this hairstyle. It would be lovely for a wedding as well, if you were brave enough to do your own wedding hair!
♥
Tales of Ted and Agnes
have a brilliant series of photos about
re-doing an old bath
, I would love a bathroom like this when I have my own place. I love freestanding baths, especially ones with legs or a roll top, I wouldn't have even thought of painting a bath! Love that rose print shower curtain as well, as a person who takes at least 1 bath a week (I shower in between, don't worry!) I would love to have a long, hot, candle lit bubble bath in my own thrifted and re-made bath.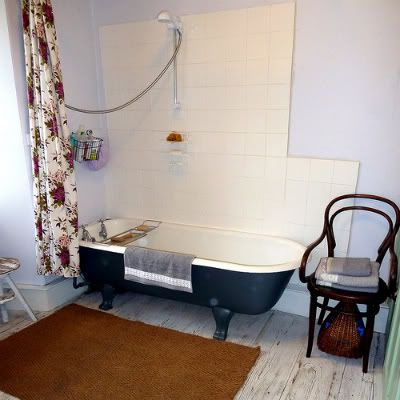 ♥ indoor tents. I built one for Andrew for Valentine's day and it was lovely, all snuggled up inside with sheepskins and fluffy pillows and fairy lights and blankets, we felt like we were the only people in the world. When I have a craft room, I want to make a permanent indoor tent where I can curl up with a good book and a cup of tea on rainy Sunday afternoons. Image via
Lucky by design
.