This will be my last post of 2009, Second Fiddle is shutting up shop until the new year. I've got some pretty stressful exams fast approaching then Christmas and New Year so it's all a bit busy right now.
It's been a busy year but a good one. It's been hard work though and I'll be pretty glad to see the back of it. 2010 is definitely going to be a year to relax a bit more!
For the meantime though, here's some pretty pictures to cheer me (and maybe you!) up. I was going to go with Christmas photos but figured I should find something a bit different, Christmas is just making me panic at the moment, so much to get through before then!
I saw these when I was in Sweden 18 months ago for a friend's wedding and thought they were adorable. They're called Dalecarlian horses or Dala horse and they were traditionally made in the Swedish province of Dalarna as toys for children. These days they're symbol of Sweden and they're everywhere in Stockholm. Sadly they're super expensive so I could only buy myself and Andrew 2 little hanging versions for the Christmas tree, but they're really pretty all the same. They're not associated with Christmas in Sweden but since our versions hang on the Christmas tree, I personally associate them with Christmas.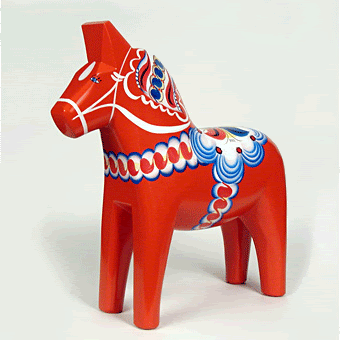 Photo credit
Here's one of the ponies that the Dala horse is based on, he's a North Swedish horse. He looks kind of like our Exmoor I think. Any excuse to publish a pony photo! This one is to remind me why I'm doing all this bloody studying, that it'll be worth it in the end.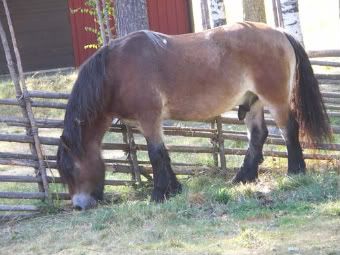 Photo credit
One last one for the fun of it, me on a Norwegian Fjord pony (see, there is a vague link!) called Morten.
Happy Christmas everyone, see you in 2010! ♥