What a lovely autumnal day for a photoshoot! I persuaded Andrew to help me take photos of some of the things I've wanted to list on my Etsy shop or blog about but couldn't photograph myself. 3 cameras, 3 dead batteries and a camera phone later we managed to get 8 of the 11 items photographed so fingers crossed for good weather next week so we can try again with (hopefully) a fully functional camera. Oh, to have money and just buy a new camera...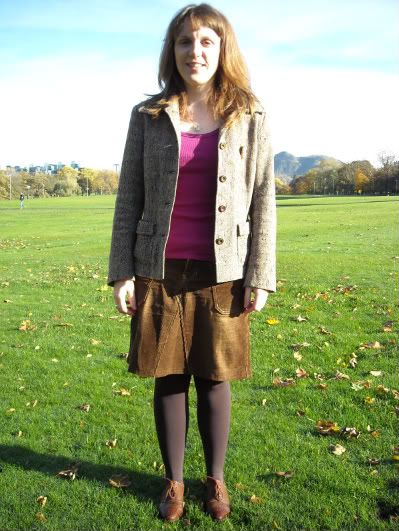 Anyway, here's my brown cord skirt, my second trousers-from-skirt attempt. I'm pretty pleased with it and have worn it a lot already, it's a bit shapeless but is fine for every day use. The trousers used to be a pair of Abercrombie cords I bought off Ebay years ago, I wore them a reasonable amount but they were always a bit tight around the thighs for my liking so when they got splashed with bleach and the bottom hem started to wear through, it seemed the perfect opportunity to convert them to a skirt.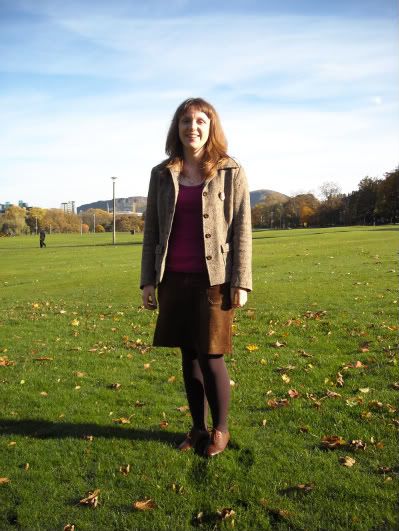 The first photo shows off the skirt best I think, but I just prefer the second photo and since I rarely take a good photo I thought I'd take this opportunity to show off a bit. Also, check out
my brogues
! They finally arrived, complete with a customs charge (boo), and although they're *slightly* too tight, I'm completely in love. They're leather, I'm sure they'll relax over time!
Note the tweed jacket, a vintage Jaeger find from a few years back, which hopefully will be featuring in a future post since I'm planning on re-lining it using
this tutorial
from the lovely Tasia at
Sewaholic.net
. I already have the material, an old dress from my Gran so watch this space...