It's been a long day at uni, I'm glad to be home with a cup of tea and the last piece of 'floor pie' (AKA apple pie that I made last week but dropped on the floor whilst putting it in the oven, leading to frantic scrabbling to quickly put it all back in the pie dish without breaking the 3 second rule).
Since I'm tired, today is going to be an inspiration post. I like how this is shaping up, I've started an inspiration folder on my PC where I save photos I've seen and label them with the site I've seen them, I've already got enough for at least 2 more posts after this.
Since there were a few that fit the theme of homewares, I thought I'd group them together. I love this
modge podge'd Ikea stool
from
Dottie Angel
. Such a great idea and such a pretty outcome! I need to work out what the UK version of modge podge is so I can try this myself, I've got so much lovely fabric I could use...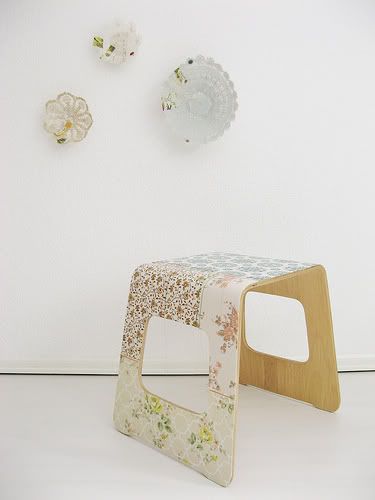 I love
these stamp collection pictures
from
Cabin and Cub
. I collected stamps for years (I was in the super cool group at school) and I've often wondered if there's anything crafty I can do with them now, rather than have them sit in a box in my folks house gathering dust. I was planning on saving them as an heirloom for my children but this seems like a lovely way to make use of them. Valerie is planning one in every colour which is a great idea, you could have a collection of them on one wall.
Suzannah of
Adventures in Dressmaking
posted recently about
plate walls
, which is something I've been planning on doing for years as soon as I get my own place. The image is via
Down and Out Chic
.