Well, the Windowsill Farm is back, after the disastrous attempt to grow veg in the garden (and indoors).
The potatoes in containers got waterlogged and rotted, the tomatoes on the windowsill generated about a dozen tomatoes before succumbing to a MASSIVE aphid infestation, the beetroots, carrots, leeks and broccoli all may well still produce veg but we're rapidly running out of good weather so I'm not holding my breath. The thyme, rosemary and coriander all died, the beans germinated but didn't get far enough to produce anything before the weather turned and the slugs ate all the strawberries. The onions and garlic vanished (pigeons maybe?) and the salads all grew nicely but were quickly populated by weeds from the rampantly overgrown rest of the garden, meaning I was too worried about eating a poisonous weed to eat any of my salads.
The problem with being on the third floor is that you're not close enough to the garden to check it regularly. I've only really been checking it when I take out the compost, which is about once or twice a week, and so I haven't been keeping a close enough eye on what's going on. The garden is so shaded and damp though that I've decided to cut my losses and move the Windowsill Farm back indoors.
Except this time I've been bitten by the Pretty Plants Bug. I always thought that plants should have a purpose, be edible or smell nice or produce flowers for the house, but now I'm starting to appreciate plants for plants sake. I went to Ikea last week and bought some plants and pretty pots, they make me so happy as I go from room to room in the flat, admiring their variagated foliage or trailing leaves or brightly coloured flowers. I bought a Christmas cacti with bright pink flowers and a pot to match (except I can't pot it up until it's finished flowering, it's a bit small for the pot at the moment) and I'm already getting excited for the thought of it's bright pink flowers complementing the bright pink pot. How cheery will that be in the depths of winter? Once it's potted up I promise to share a photo!
I swapped this succulent with the lady on the next stall at the car boot sale last weekend (I made £30, woop!) for an old filofax and it looks really smart in this old plant pot I had in the house. It sits next to my orchid (bought reduced to clear in Tesco) on the sideboard and they really complement each other.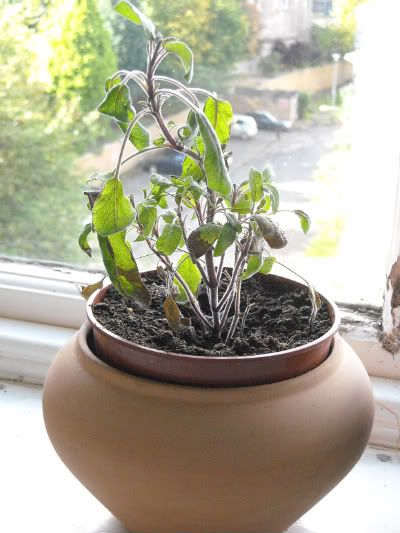 This sage plant was 20p in Homebase at the end of the summer and it's now sitting on my kitchen windowsill, soaking up the sunshine in it's terracotta charity-shop pot.
These cacti were free with an Ikea voucher I got with my Ikea family card and the lovely container was inherited from Andrew's grandad (who was an unsuccessful bonsai owner). Don't they look lovely now though?
This is my new rosemary so fingers crossed I don't kill it again! The plant and terracotta pot were from Homebase, the plant was £3 and the pot £1.50 so I figure I got a bargain. The peelings tin is another charity shop find, so the kitchen windowsill is now populated entirely with thrifty plants and charity shop finds!
It's made me realise that gardening in the house is every bit as satisfying as gardening outside and that plants don't have to cost the earth to be pretty and useful. I love thrifting, whether it be buying something second hand, swapping it with someone or just plain finding a bargain in a regular shop!