I am on a roll! It's so much easier to keep on top of photographing things when my timetable lets me come home at lunchtime. Otherwise by the time I'm home in the evening it's too dark for decent photos and I'm tired and can't be bothered.
Vintage tie dye silk scarf
. I found this in my stash of fabric when I was having a bit of a clear out, it came from my Gran when she died, she had a whole load of neck scarves. I kept the ones I liked for myself, or the ones with sentimental value, and popped the rest in my Etsy shop. Gran would love that I have my own little business and her scarves are being worn and loved!
How pretty is this
green sari silk
? I bought it ages ago for a dress project (which I'll have to take photos of, the only photo I have of me in that dress I look completely manic!) and have loads left so I thought I'd pop it on Etsy. In the spirit of destashing and all!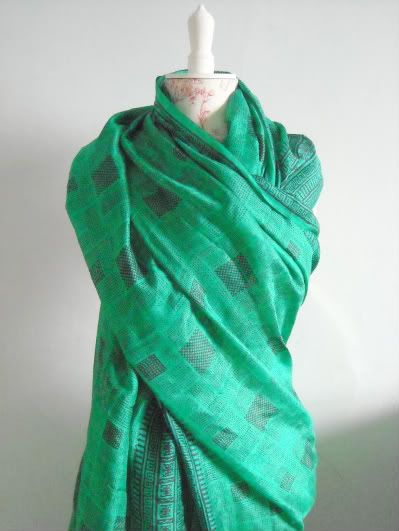 Stripy blue and brown stretch fabric
. I have no idea when or how I accumulated this one but since I have no immediate plans for it, into the Etsy shop it goes!
Gah, if I ever have the time to really make a go of my Etsy shop, the first thing I'll be doing is buying a new camera. My camera is so rubbish, these photos are all grainy and dull, it's impossible to focus properly and I can't use a tripod because the camera is so temperamental, which means I have to wait for Andrew to help me take full length shots. Ah, to be free of studying...