Well, I had a lovely time up North at the weekend, it was really nice to catch up with folk from my first degree and it was weird being back in Aberdeen and seeing everything that had changed! Saying that, I started the week a bit tired and still slightly hungover and I've been struggling to shift that feeling, it's been a most unproductive week so far!
I took a photo of this just after my birthday and just found it in my photobucket, it's the picture Andrew gave me as a present. It's from
the Red Door Gallery
in Edinburgh, which is one of my favourite places to visit when I'm in the Grassmarket (along with
Armstrong
, the most amazing vintage shop!).
We were in the gallery a week or so before my birthday and I saw this print and really liked it, we ended up having a deep philosophical discussion about where the hamster thought it was going in life, it was quite surreal. Anyway, he went back and bought it for me and got it framed and now it's up in our lounge.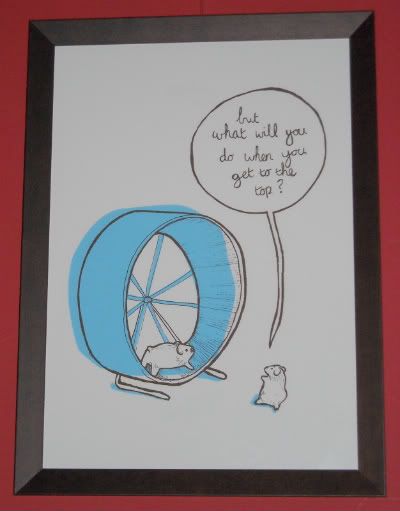 It always makes me smile whenever I see it ♥
P.S. apologies for the dire photo, I always wait until too late in the day to take photographs!