I wanted to make the title 'Finally finished Frances' Fathmat' so it was alliteration but that would be a bit silly after all.
Here's the work in progress post
and here is the finished object!
It's a bit wonky and the anchor hasn't shown up as well as I'd like, I should have used thicker thread or done more of a block outline rather than a line outline (if that makes sense?!) but seeing as it's 4 months late already, I feel like I should just cut my losses and get it in the post. Gosh, looking at the picture, you can barely see the anchor against those lines! I'm a terrible friend, to everyone reading this, I solemnly promise to be better organised at keeping in touch when I graduate.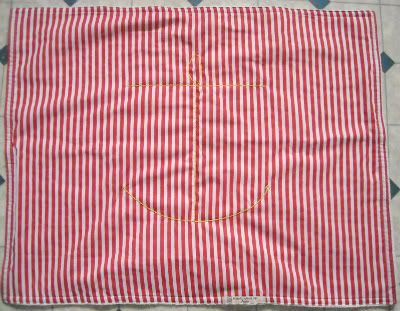 Also, check out these amazing tartan skirts I thrifted over the weekend. I'm considering keeping the blue one and just shortening it, though I'm not sure I've got anything that would go with it! It's such lovely material though, 100% wool, I don't really want to part with them. But since they were both over my budget for buying for my Etsy shop anyway, I feel like they're going to have to work for their keep and will have to be listed. I might hold onto them for a little while though, just so I can stroke them from time to time...