It's review time again folks! You can see my first post in this series
over here
, it was a review of Bohemia, an adorable little 'lifestyle boutique' (their words, not mine) selling lovely clothes and homewares in the Morningside and Marchmont areas of Edinburgh.
Today it's the turn of the vintage emporium,
W. Armstrongs
. If you live in Edinburgh or visit at any time, you must must MUST stop in Armstrongs for a browse. For a start it has the largest selection of vintage cashmere I think I've ever seen and that's comparing it to vintage shopping in London! The clothes go from floor to ceiling, literally, and the ceiling is tall, you need a ladder to reach the stuff on the top rails. There are 3 shops, one in Grassmarket (the largest), one in Teviot and one on Clerk St. They also have
an Ebay shop
.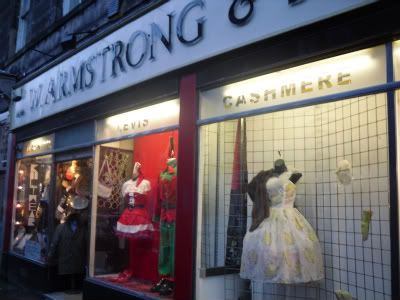 Taken from their website
Armstrongs Vintage Emporium is a tardis like store overflowing with antique uniforms, vintage handbags, hats and clothes from every decade dating back to Victorian costume. Est 1840 Armstrongs has metamorphosed into a cornucopia of vintage and retro delights.
Tardis-like is true fo'sho, the Grassmarket shop goes on and on, with twists and turns that make you feel like Alice down the rabbit hole.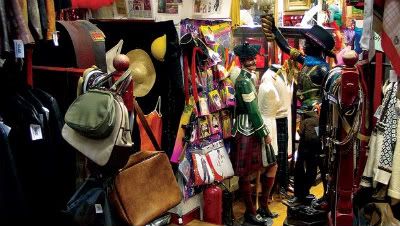 Last time I was in there was with my brother and he bought a pair of vintage Levis for £7. £7!! That's the other great thing about Armstrongs, besides the amazing array of stuff, it's very reasonably priced, with a lot of things working out far cheaper than to buy them new. I'm planning a trip there tomorrow to see if I can find either a Harris Tweed jacket or an aran jumper for my Grandad who turns 80 in a month. The jackets I've seen so far have ranged from £18-50 depending on the condition, which is pretty bloody great for something tweed.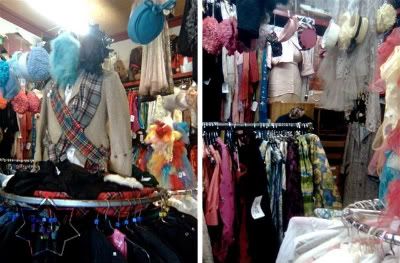 The down side, well, the only downside to this shop is the staff. Every time I've been shopping in Armstrongs the staff have been a range from indifferent to downright rude. The only time this hasn't been the case was one time I was served by a lovely girl in the Clerk St store, who gave me some very useful tips for selling
my vintage Thumbelina curtains
. Other than that, the staff seem to be mainly young 20-something trendies, who are too busy standing around looking far cooler than you dahling, to offer you any real help or advice. I went in before Christmas to try and get a jacket for Danny and they only had ones 2 inches too large round the chest. I asked the lady at the counter if she thought it would make a big difference to the fit, having never bought a man's jacket before (and not being a man myself) and she treated me as though I was the world's largest idiot for asking. In the end I bought him a
funky Christmas sweater
off the market instead so she fair snooted herself out of that sale.
Overall though I would say 8 out of 10 for this marvelous vintage emporium, be sure to stop by if you get the chance!