It's a sad day but my beloved
Ness purse
has almost given up on this life, it will be sadly missed. In the spirit of thrift and saving money, I thought I'd have a go at making my own little purse to replace it.
I used
this tutorial from Make it Perfect
and it was really clear and easy to follow, two thumbs up there! Unfortunately I made a bit of an error of judgement when it came to choosing the fabric and chose 2 rather thick stiff pieces, meaning my purse has come out a bit odd and wonky-looking. Also, the only zips I had were either miles too big or just a tad too small, so I went for the too-small variety. I can get cards in and out...just, but I foresee many embarrassing moments in the future where I'm holding up a large queue of angry people whilst digging around trying to find that last 5p or struggling to find my bank card amidst the clutter of my Debenhams beauty card (used once), WH Smiths stationary card (last used approximately 6 years ago), various coffee shop loyalty cards that I can't afford any more, my blood donor card (what if I get hit by a car and they give me the WRONG BLOOD TRANSFUSION!?), my Matalan card, my Ikea family card...you get the picture.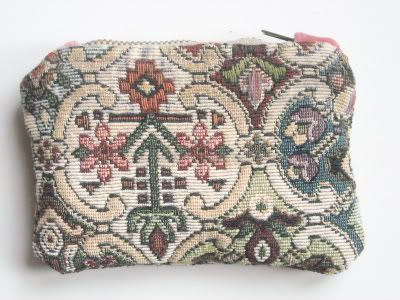 The fabric is upholstery fabric that used to be on the seats of my folks dining chairs. The chairs eventually succumbed to old age and were burned but I managed to rescue the material from the funeral pyre. The velvet is some stuff I bought from a charity shop, I'm pretty much in love with velvet at the moment.
Other than all these obvious flaws, I'm pretty pleased with the outcome! I plan to use it until I find a tutorial that'll show me how to make one with different pockets, ideally I'd like a pocket for change and notes, a pocket for important useful cards and a pocket for less-important-but-still-annoying-if-you-go-out-without-them-then-need-them cards.
They'd make sweet gifts as well!