Remember I mentioned a few days ago about 2 tins full of buttons
my friend Karen had given me
? Well, I finally got round to sorting them!
Is there anything more fun than sorting through craft stuff? I sat for a good few hours on the floor in the lounge watching The Truman Show (definitely one of my favourite films) and sifting through piles of buttons, imagining all the projects I'm going to make with them.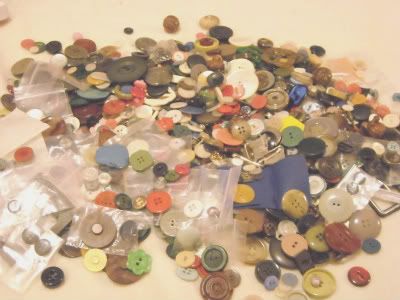 The first official project I'm going to use them for is a thank you card to Karen's parents, who gave them to me in the first place. Karen's gran recently passed away and it was in clearing her house that they found this amazing stash. There's something both morbid and rejuvenating about using craft materials that have come to you in this way, it's a bit strange going through the possessions of someone who's died, you feel almost like you're stealing from them, even though you know logically they have no use for them any more. On the other hand though, I think there's something nice about using craft materials that have been given to you when someone died, it allows their memory to live on everytime you use those things. A lot of my material stash came to me from Andrew's gran and I think of her everytime I use a piece. It's rejuvenating in that it gives those items a new lease of life, allowing the memory of that person to be bound up in whatever project they become a part of.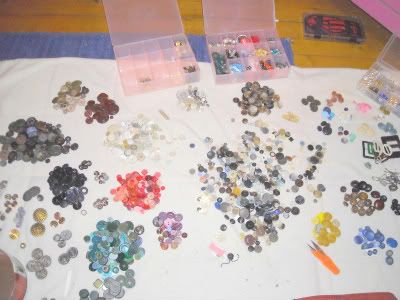 I'm planning a day of making cards so hopefully tomorrow I'll have photos to show you! Also, remember to enter my
100 etsy hearts giveaway!
♥