I made some more cards! Following on from the success of
the button card
, I've tried my hand at hot glue and fabric. A fun but potentially lethal combination (well, mildly painful maybe...not lethal in the strictest sense of the word...), I think I've left a reasonable amount of the skin on my fingers attached to the coffee table and the 3 week old copy of the Guardian that I was leaning on.
Ah well, it's worth it when the results are so cute! Even if I do say so myself :)
You may recognise some of the fabric as being off cuts from
Danica's tote bag
. I think this is only going to fuel my craze for paper crafts, it's cheaper than buying cards and it uses up all those little scraps of fabric that are just too cute to throw out!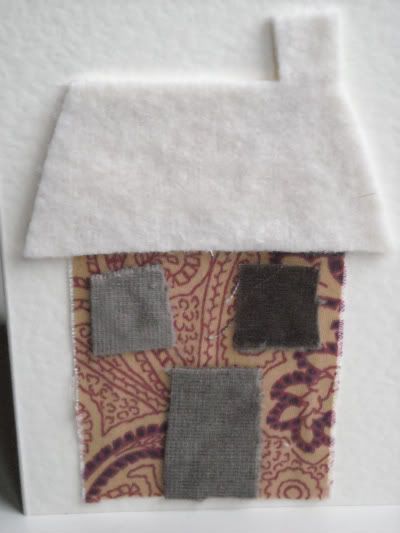 These two are going to
Frances and Mark
, who moved into their new house months ago (I'm a terrible friend) and my friend Dicker who moved into his new flat over Christmas. Frances' one will have to wait even longer as I said I'd make them a bath mat as a housewarming present. They'll have moved house again by the time I get myself organised!