This time last year I made
a Hello Kitty bag
for Andrew's cousin's little girl, Shanay. Her Mum, Beverly, asked me to make it for her for Christmas and paid me for my troubles, which was a most welcome cash injection just before Christmas!
This year she requested a panda bear hat so I duly searched Ravelry and came up with
this pattern from Lion Brand Yarns
. Now, a word of warning for this seemingly adorable pattern, MAKE A GAUGE SQUARE!! I cannot stress this enough, I had 3 attempts at making this hat with the first 2 coming out far too small and the last one (I think) far too big. By that point though I was so fed up of the whole thing that I just finished it off anyway and will post it off this week, it fits me so hopefully Shanay will grow into it.
It was so frustrating since it's actually a really simple pattern. I ended up ignoring the pattern for the eyes, ears and nose since I was using a different thickness of black wool so just guessed at the sizes and came out about right.
He has a smiley face!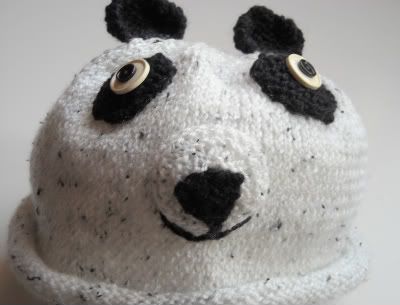 The buttons for the eyes came from my friend Karen whose Gran sadly just passed away. In clearing out her house though, she found 2 tins FULL of buttons and passed them both on to me! Once my exam is out of the way I plan to spend a happy day in front of the fire sorting my new found treasure into little pretty piles. So excited!