I'm going to end 2010 with a new blog idea - reviews. I know it's very self-indulgent on the one hand, but on the other I really enjoy reviews on other people's blogs! It's really handy to know what a similar crafty person thinks about a book or shop, it might encourage me to read or visit it myself or to give it a miss if they've not been terribly complimentary. Since I already do my occasional
Etsy shop features
, it makes sense to review some 'real life' stuff as well.
So, on with the review! This beautiful little shop is just up the road from me, where Bruntsfield meets Morningside for you Edinburgh folks. It's called
Bohemia
and they also have an online shop with international shipping for you guys reading from abroad!
Moroccan pouffe in Jade
The shop itself is really prettily decorated, the window is always very alluring, it makes you want to go inside and buy everything. They sell a range of items; clothes, homewares, adorable kids stuff and the cutest cards and gifts. They're also one of the few places in Edinbugh that stock
Cloth magazine
(thanks to
Elaine
for the suggestion there!), which if you sew and haven't checked it out yet then you're missing out!
Avoca Anthology wrap dress
The few times I've been in the staff have always been really friendly and helpful. My only gripe with this shop is that it's quite expensive, a lot of the clothes especially a quite a way out of my price range, but then if you have a bit of disposable income and are looking for something really special, I would stop by here!
Odd Molly silk and lace knickers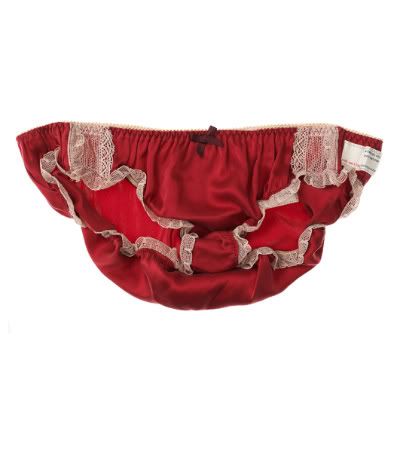 This is me signing off for 2010 folks, I've got an exam on Thursday then I'm catching a train down to London to visit Vicky, then to my folks for Christmas. See you all in 2011 and have a lovely festive season! ♥