Well, after all that anticipation, preparation and excitement, 10th of April 2010 came and went and it was all over in a flash.
Frances' wedding was lovely, the weather was glorious and it was great to catch up with old friends. Several people complimented me on
my dress
, which was nice, though I stupidly didn't get a photo of myself wearing it with
the wrap
and
shoes
. Here's one of the dress in action, it's the best I could find by stealing off people on facebook (oops...) Ah well, I guess I'll have to get all dressed up again to show you the complete outfit, what a pity...
I'm the one on the far right, in the blue dress. I chose the blue because it was one of Frances' wedding colours and I'm pretty pleased with it, it almost perfectly matches the blue in the roses the Maid of Honour, Vicky, is wearing (on the right of the bride).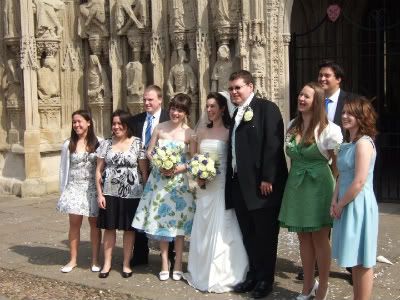 As for the wedding present, the long awaited crochet blanket was finally finished the week beforehand. I'm really pleased with it, it's perfect size for snuggling with on the couch or it just covers a double bed. It was a great stash buster, though I had to buy some extra balls to finish it off. Finished just in time to start another one for the next wedding in Easter 2011!