This is my first ever submission to
Work in Progress Wednesday with Tami's Amis
. Hopefully this will encourage me to take more photos of my works in progress, rather than waiting until they're finished!
Check out
my cardigan
, see how it's grown! I love this wool, it's from
New Lanark
and the colour is called
blueberry
. There are so many cute colours of wool in that shop, if this cardigan works then I'm definitely going back for some
bramble
,
pebble
and
heather
. I should do a review of New Lanark at some point, it's a lovely place for a day out!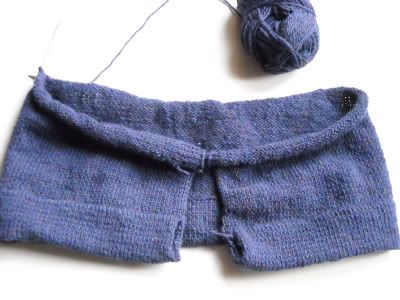 I had a scary moment last week where I thought this was coming out too large, but luckily I rechecked my guage and I think I'm safe! It's a Ysolda Teague pattern, 'Coraline' off
Ravelry
and so far has been pretty straightforward, check out my first attempt at provisional cast-on! It's growing slowly but that's more because I haven't been doing a huge amount of knitting recently, by the time I'm done studying for the night I can generally only stay awake for about half an hour before I have to give in and crawl into bed, so not a huge amount of knitting gets done. I'm away to Andrew's folks in Inverness for the weekend though so I reckon I'll get quite a bit done there.
Ooo, excitement! I love watching a big knitting project grow!