Just up the road from me is a lovely little gift shop called
Halibut and Herring
. It's so cute and quirky, they sell a range of handmade soaps and bath bombs (mostly made in Scotland and they smell divine!) as well as handmade bags, purses and cushions and random little gift things like a hedgehog shaped nail brush or bath crayons (to draw on tiles in the bathroom!) or a rubber duck with a doctors outfit on (I want this, he looks like a vet!). At the moment they have a range of gorgeous velvet (to
continue the velvet theme
) bags and cushions, I couldn't find a photo on the internet and I felt a bit weird photographing them in the shop but they're deep teals and mustards with birds and tree patterns, so pretty!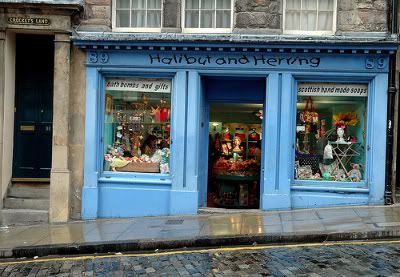 The shop itself is painted really bright colours, I especially like the teal theme they seem to have going and every time I've been in the shop workers have been lovely, greeting you with a cheery "hello!", and "goodbye!" or "thank you!" when you're leaving. Halibut and Herring has a nice range of prices as well, you could pick up a little gift for a couple of pounds or a proper present for £20-30 or more.
The window display is always very eye catching, it makes me want to go in and buy everything or run home and frantically sew all night. I love this scotty dog hot water bottle cover, so cute!
So if you're ever in Bruntsfield or Morningside, be sure to check out
Halibut and Herring
!
P.S. If you're into sewing and have a minute or two to spare, have a go at
Sewaholic's questionnaire
. It's for her business class and the sooner she graduates, the sooner we all get lovely new Sewaholic patterns to play with! I hope the link works, I've done it already so it might just direct you to a 'you've already done this survey' page but if that happens, you can check out the original link over on
Sewaholic.net
.