How awesome are these 1970's paisley curtains?! I got them in a trade on
Thriftstore
but in the recent stash bust, it was decided that they should go. I kept them thinking I would cut them up and use the fabric, but actually they look so great as curtains, it would be a shame to cut them up. I hope they go to someone special, if I didn't have huge tenement windows, I would definitely have them hanging in my kitchen!
They'll be over on
my Etsy shop
tomorrow hopefully, I'm just waiting on a day where it's not pouring with rain to get some nice close-up photos of the pattern.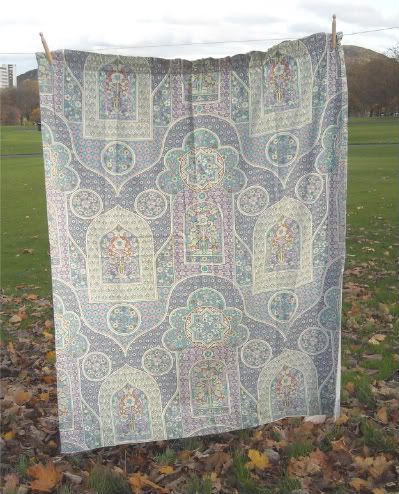 Also, I've been pondering my Etsy shop recently. When I graduate and get a job, I'd like to spend more time developing my shop, especially the vintage side of things. I've been thinking that I'd like to change the name, since I've never really been 100% happy with 'Second Fiddle'. At the moment I like the idea of 'Thrifty Pony' since I'd like something that would reflect the fact that I would be selling vintage (with the occasional hand-made item) but also a name that is a bit personal to me. I want a name that includes some aspect of who I am in it, and since I'm mad keen on horses, I figured that would be as good a name as any! I'm in no way settling on that for definite, and I have 18 months at least to think about it but it's a start!
How did you guys come up with the names of your blogs/shops?