I've been planning on making these rolls for ages, all my knitting needles have been spilling around in a leather trunk that I use for my wool. Every time I go for a ball of wool or a needle, I have to empty out the trunk and disentangle wool and needles from each other, it's very annoying. For the moment the wool will have to stay in the trunk, I don't have anywhere else to put it, but I figured it would be a good stash-bust to finally get around to making holders for the needles!
I made this little holder for my cable needles and crochet hooks out of vintage floral and birds cotton from Andrew's granny. It was originally a pillow case, isn't the pattern adorable? I bought the Singer sewing machine button at the
Victoria and Albert Museum
in London, years ago, when I went to see an exhibit on Vogue through the ages. The set came with the sewing machine button, some scissors, a needle and some bobbins, all in tiny miniature button form - so cute!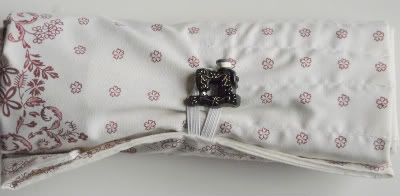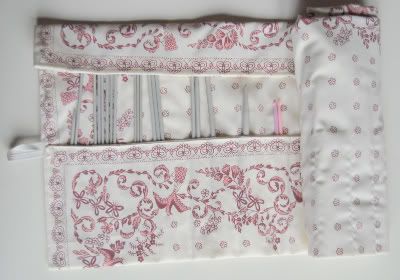 This needle roll I made from a thrifted duvet cover I bought from a charity shop when I was in Aberdeen. In retrospect, I wish I hadn't cut it up for the fabric, it would have made a super-sweet duvet cover, but I do love the material so I'm glad I get to craft with it now!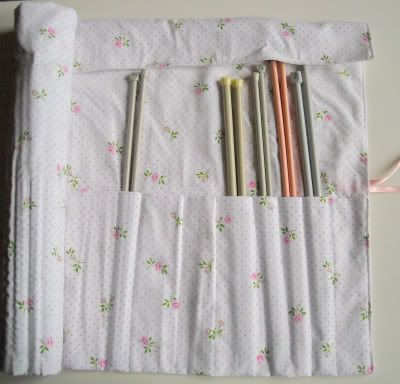 There are loads of lovely knitting needle rolls on Etsy, far more professional than mine! I would have bought myself one but I'm saving up my pennies at the moment to get a vintage bike serviced and road-worthy, I found it in my tenement garden, it must have been left there by a previous resident. It's mine now anyway and I'm going to get it on the road, just need to save up the cash!
I'm going to start featuring Etsy items that have some link to something I've made, it's a nice way to help out a fellow craftster with some free advertising and will hopefully bring more people to my blog and shop! I'm not going to do it all the time, I think my readers (all 11 of you!) would get a bit bored with constant Etsy items, but it's a good way to gain inspiration for a craft project or a present idea for someone. I'm going to try and feature both larger shops and people just starting out, like me, to try and help drive some custom to the smaller shops. Hopefully it'll help promote my shop at the same time!
So without further ado, here are some of what Etsy has to offer by way of knitting rolls:
This awesome '70s style knitting roll
from
Sarahkincheloe
is so bright and zany, it would definitely make me want to pick up my needles and knit something!
This floral paisley knitting roll
from
Knit One, Bead Two
is MASSIVE! You'd never need to buy another case again I don't think!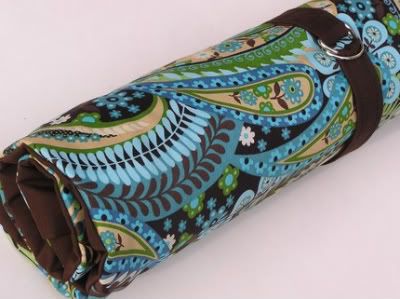 I love the
wacky bright colours of this roll
by
Sol Studios
, it would definitely cheer you up on a rainy day.