My Gran on my Mum's side died just over 3 years ago now and when we were sorting through her things, we found these 2 rosaries. My Gran (Granny Dot we used to call her) was Protestant and so I thought it a bit strange that she owned rosaries, I always thought it was a Catholic thing. I never saw her use them or even hold them, I didn't realise she owned them at all until after she died. I did a bit of reading and realised that you can and do get Protestant rosaries, they're just not as commonly used in the Protestant church.
I remember when I was a teenager there was a trend for necklaces made to look like rosaries or with large crosses and crucifixes. It was really fashionable for a while and girls at school would wear them whether they were Christian or not. I always found it a bit uncomfortable, making something that has such power and meaning for some people into a disposable fashion accessory just didn't sit right, even if I don't believe myself.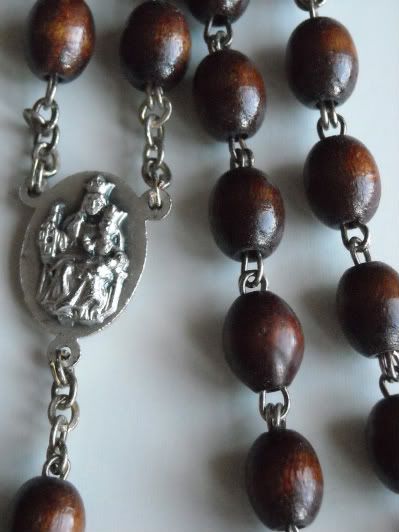 Still, there's something fascinating about the rosary I think, like any form of meditation. I'm glad I own Granny Dot's rosaries and I plan to keep them safe and pass them onto my children in turn.