Some works in progress that are keeping me busy and off the streets.
1. Work in Progress 1: Cable Knit Scarf II.
This is a sequel to
Cable Knit Scarf
, which sadly was left in a pub on Christmas Eve. Well, they say left, I say someone stole it but the good people at the Fighting Cocks wouldn't take me seriously. Possibly because I was a teeeeeensy bit drunky-drunk. I was bereft for a good few weeks, it feels like leaving a baby behind. Almost.
Anyway, I saw this wool in Exeter over Easter and had to have it. It's so chunky and soft and I love the colour, it'll go with almost everything in my wardrobe. I bought 5 balls because my last scarf was super long and I loved that, but I'm not even finished my first ball and I can already wrap it completely round my neck. I'm planning a matching hat and gloves set to use the rest.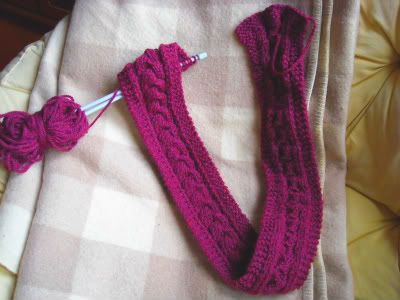 2. Work in Progress 2: BOB (button on blanket) cardigan.
I got the pattern off
Ravelry
(my name is SecondFiddle by the way in case anyone wants to friend me!), you can check out the pattern for yourself over
here
. This is my first attempt at making a proper item of clothing, I've so far done the body and 1 and a half sleeves. It's coming together really quickly, given that I'm only knitting for an hour or so in the evenings. I just bought some chunky handmade wooden toggles for it off
The Hickory Tree on Etsy
, so I'm impatient to finish now!