OK, I suck at blogging this week. I had an exam on Friday (which went well I think, touch wood) so I haven't really been concentrating on crafting. Well, that's a lie, I've obviously been crafting (it's like my equivalent of rumination. Andrew always says he knows when I'm really sick, when I don't want to knit. It's like when a cow gets sick it stops ruminating) but I haven't been organised enough to take photos.
So, until I get my act together again, I would like to promote another completely awesome site I'm now officially addicted to. For those who know about it, you know of what I speak. For those who don't, prepare for vast swathes of your time to disappear into browsing this amazing knitting and crochet community.
In the beginning there was the word. And the word was
Ravelry
.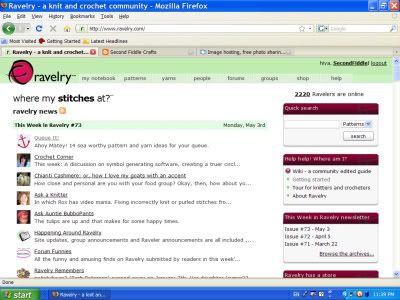 There are thousands of patterns on there. Some are free, like my
chunky cardigan
. Some are a few dollars and is it scarily easy to buy patterns.
It's super easy to upload photos straight from your computer or photo site, you can link to blog posts, read other people's comments on patterns so you can make your own modifications or ask for help on the super friendly forums.
All in all, if I fail my summer exams, it'll be because of this website. Oh, friend me! My user name is SecondFiddle.