It's my friend Frances' wedding in about 1 month and I'm busy preparing her present (a crocheted blanket, photos to follow once it's finished!) and my outfit.
I'm making another version of
the retro 1950's style dress
but with a more flowing skirt, in light blue (one of the wedding colours). I haven't decided what to do about a cardigan/shrug yet though, I'm scouring ebay and etsy for ideas!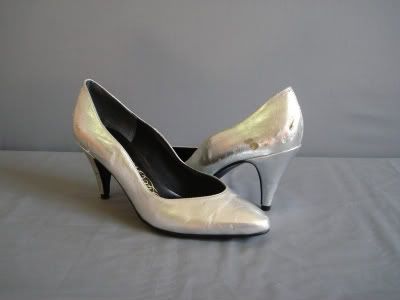 To go with the dress, I recently traded these marvelous shoes from
Revolving Styles
. They fit perfectly and although they're a little bashed up, I traded them for $14 and a pair of earrings so I think I can overlook some 'character'!
I'm really looking forward to the wedding, just got to crack on with the dress!