These were my first, and so far only, attempt at making socks, years and years ago. They were also SUPER expensive because it was back when I was first starting to knit and I thought you had to do everything by the book, buy the right wool, follow the pattern to the letter. This meant I ended up spending £18 on these socks, buying the wool the pattern said to buy, plus the pattern and needles. £18 on a pair of socks! Still, I learned a valuable lesson in buying second-hand thrifted wool and learnt to knit socks, so can't complain really.
I wore them literally to death, until the wool wore through on the soles, leaving me with 2 massive holes. Since then they've been sat in my 'clothes to alter' trunk until I dug them out a few weeks back and cut soles from a felted jumper to make them into slipper socks. I hand-stitched them on with red embroidery floss and blanket stitch and I'm quite pleased with how they've turned out, they look quite Scandinavian folk to me.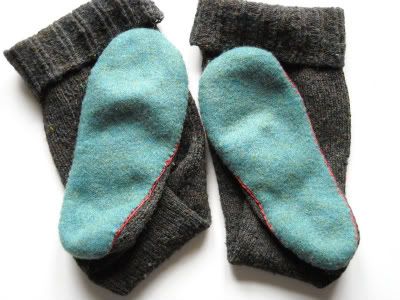 So, although they started out pretty expensive, they've lasted a good few years and with my new, thrify improvements, hopefully will last a few years more!