Here it is (finally), the purse won by the lovely Mary-Jane from
my 50 hearts giveaway
! It's only taken me...2 weeks to make it...
.

In my defence, I have scary exams looming (4 weeks and counting) plus numerous Christmas presents on the go, but still, that's no way to treat your blog reading public. I definitely resolve to do better next time, promise.

Apologies for the orange-tinted photos as well, it's dark here and I wanted to take a photo so I can get it sent off tomorrow. Watch out for the postie MJ, it's on the way!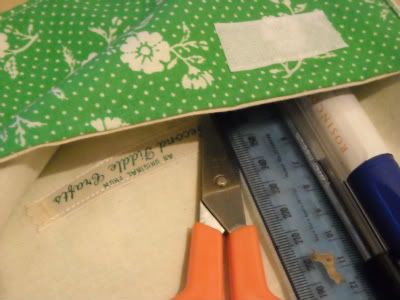 Partly why it's taken so long is that I was umming and ahhing over the design. Normally I put buttons on the outside for decoration but this time I tried the patterned material on the outside and so buttons seemed a bit superfluous. I thought it needed something extra though but I couldn't work out what so in the end I left it, thinking 'less is more'. I hope she likes it .