I finally got round to scanning in the article about Viola, so without further ado, here it is! They spelled Hobbes' name wrong (Hogs, psh) but I'm the Edinburgh based vet student, I'm famous!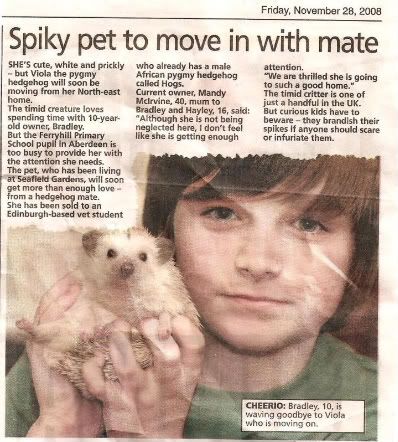 Also, another old one, Patchy, the world's largest patchwork quilt. I've started a new log cabin quilt because there's so much wrong with Patchy, the stitching is wonky, I don't like the backing (I backed it in sweatshirt material with the fleece side out because I bought a huge bag of it for £5 from a car boot sale), it's HUGE and so really hard to handle and it's generally a bit rubbish. I mean, don't get me wrong, I like it just because it's my first ever patchwork blanket, but I know I can do so much better now. I'm going to do the log cabin quilt properly, with batting and proper quilt stitching. It's good to look at Patchy and see how far my skills have come in the past 2 years though.
I can hear them turning on the christmas tree lights across the road but I'm alone in Andrew's flat and I don't have a key, so I can't go outside and watch because I'll get locked out. This makes me sad, they have a bagpiper and everything.