I bought this cork pin board a while back from the Omni car boot sale (the same trip where I got
these amazing tea cosies
and
these vintage scarves
!) and I've planned for ages to turn it into one of those pretty inspiration boards you see in craft rooms.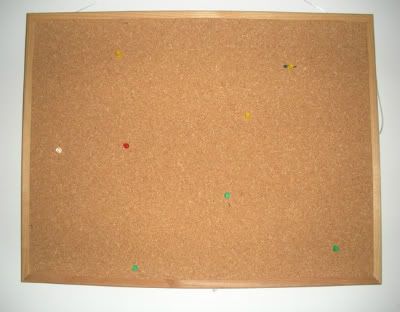 I forgot to take a 'before' picture, but I'm sure you all know what a cork board looks like, so here's a photo
off google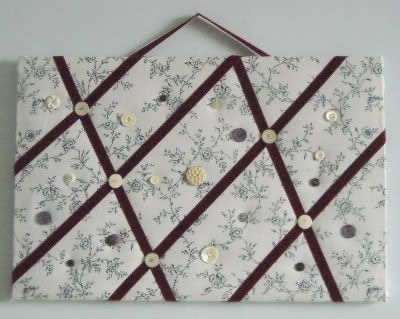 Well, since it was
Vicky's
birthday at the start of July, it gave me the kick up the backside I needed to get the old trusty glue gun and not-so-trust staple gun out and get t'prettifying.
I covered the board in batting, then ironed the material and stretched it over the top, stapling it around the edges. I bought the velvet ribbon from the wonderful Edinburgh Fabrics on Clerk Street (who don't have a website sadly) and eyeballed where to place and staple that. The drawing pins had buttons glued to their tops and the pins to hold the ribbon in place are split pins, poked through a hole made with a nail hammered through to the back, then taped on the back and a button glued over the top. Does that make sense? My brain is a bit fried after all the studying!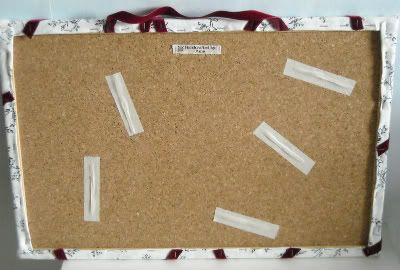 I'm pretty pleased with the result, it could have been straighter and less wonky had the staple gun not been a giant pile of something indescribable but for the most part, I'm happy.
Lessons learned:
- Spend more than £9.99 on a staple gun
- Measure where to place the ribbon before stapling it in place.
I also bought her this lovely locket necklace off
Rose and Raven
on Etsy (the same seller as Karen's
bird and tree necklace
) , I just want to buy everything in that shop to be honest.
In other news, my exam is over (and was every bit as horrid as I thought it was going to be so fingers crossed for me not having to repeat the year) so hopefully blogging and crafting will go back to normal!