What can you do with a lace curtain, a glue gun, an old hairband and an assortment of collected broken jewellery? Why, make a veil for a hen do of course!
A friend from vet school is getting married in September and her hen do (or batchelorette party for those of you reading abroad!) was last Thursday. It was a civilised affair as she's quite a religious chick, involving afternoon tea at
the Botanic Gardens
, followed by a film at
Edinburgh's finest independent cinema
(we saw
The Angel's Share
for anyone interested, it was brilliant, I would definitely recommend it!), followed by games and drinks.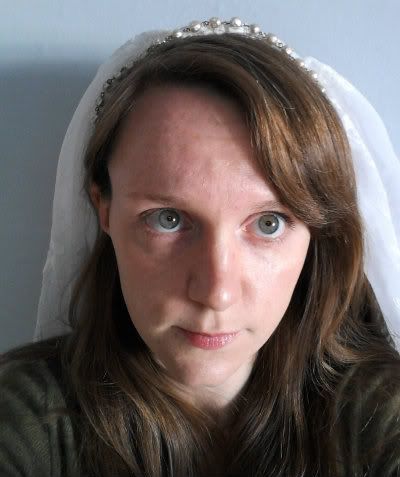 I was in charge of 'pin the trunks on the hunk' and 'pass the parcel' and the veil. Since I'm rather strapped for cash at the moment (graduating is EXPENSIVE) I decided to have a bash at making one and I'm pretty pleased with how it turned out.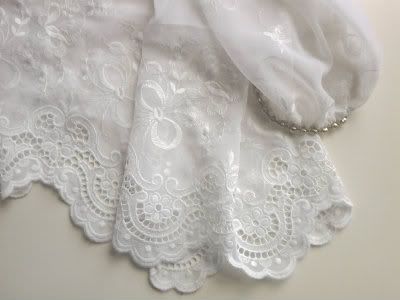 I removed the fabric covering from an old hairband, hemmed a lace curtain from my stash on 3 sides to stop it fraying and created a tunnel at the top for the hairband to slip through. I glued that in place with my trusty glue gun and then hand stitched a string of faux pearls from a broken necklace across the band.
It's so long!
All in all, it worked quite well. I left the curtain long because I thought it was too pretty to cut but the problem with that plan was that it was quite heavy and kept dragging itself off Louise's head. Design flaw there.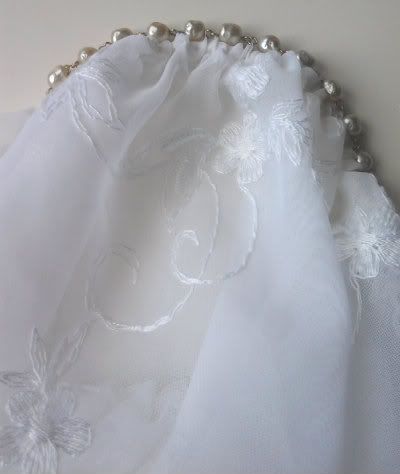 She seemed pleased though. I maintain that more penises should have been involved in the whole day but I was shot down. What can you do, eh?