Last week
Vicky
and Frances came to visit. We had a lovely few days charity shopping, vintage shopping, eating cake, drinking wine and tea, doing girly face packs and visiting the lovely Ruth in Glasgow. Whilst in Glasgow we visited two brilliant vintage shops,
Mr Ben
and a second one, of which I can't remember the name.
I bought a brilliant green aran cardi from Mr Ben, which I have grand plans to alter slightly so photos to follow. In the second, nameless shop though, I stumbled upon this lovely wool '60s number. After much umming and ahhing, I was persuaded by the ladies to buy it and I love it! I wore it out to a wedding brunch this afternoon where it gathered 3 compliments in the space of 2 hours so it's definitely a keeper!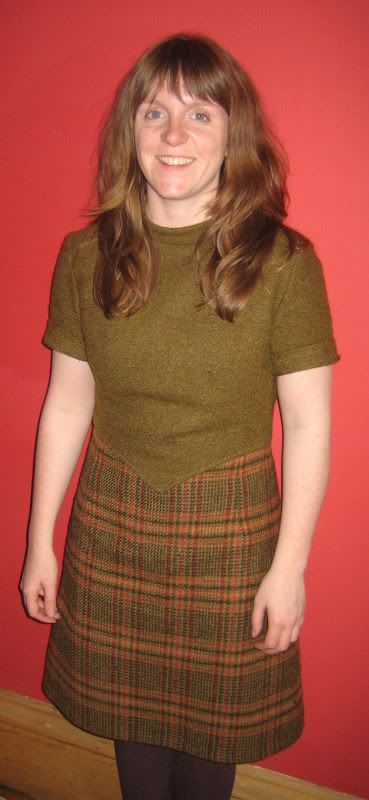 In crafting news, work on yet another wedding blanket is on-going but look, I learned to do hexagons!
Blogging is hopefully back to normal now that the wedding season and exams are over, although now I'm on placement now so don't have a lot of free time. I'm going to take blogging down to twice a week (which is twice a week more than the last 2 weeks) since between placement and studying, I'm finding my motivation to blog is severely on the wane. Still, twice a week should be manageable, I don't want to push myself and it become a chore, it's supposed to be fun after all!