Goodness, it's been a busy old week on the blog. From not posting for weeks, I've now posted 3 times in 1 week! I guess that's how it works with craft projects, sometimes everything just comes together all at once.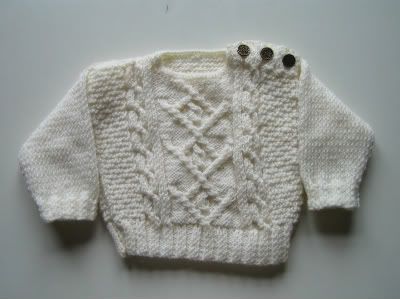 This little one has been finished for a while now, but I was waiting on Toni to have her baby before I posted it. Welcome to the world baby Isaac! You are going to be so loved.
The pattern was a free Ravelry link, you can see it
over here
. I messed up the sleeves a bit, they're supposed to be the same texture as the back, but I kept knitting it back to front. After taking them out for the third time, I just cut my losses and went for straight stocking stitch. That's what you get for trying to knit with a cold.
The yarn is just an acrylic DK, good for babies as it's machine washable and soft! I already had the yarn in my stash, as with the buttons, so all in all, this was a stash-bustin' make! Love them ♥