I had sudden inspiration to make a sleep mask the other day, mainly after finding
this super easy tutorial
on
Whipup.net
, via
Pinterest
.
I've been planning on making one for a while, since Andrew started a new job last year and now gets up an hour before I do to commute to Glasgow. Once he's awake and switching lights on, I find it hard to carry on sleeping, meaning I lose an hour of sleep a night. Which isn't a huge amount, but it's enough to make me crabby.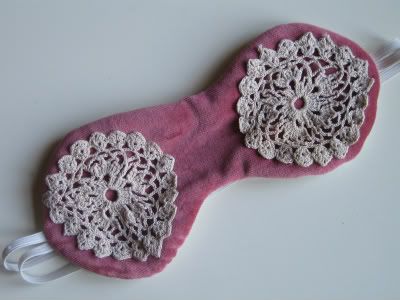 This little mask is backed with cream boiled wool, a remnant from my
Birds wrap for Frances' wedding
. It's so warm and completely blacks out any light, I slept right through until Andrew brought me my morning cup o'tea this morning, amazing!
These would make cute gifts for folk, you could make them in so many different colours and styles. This one is pink velvet with 2 vintage doileys hand-stitched on the eyes.