There's a bit of an owl theme going on with the 2012 posts at the mo, how strange. Anyway, here's the finished
owl sweater
I knitted for
Vicky
from her Mum for Christmas (incidentally, that's Vicky of the amazing
rose teacosy
fame. She's hoping to start a blog soon so watch this space, she crafts beautiful things and takes lovely photos so I'm sure it'll be a feast for the eyes!).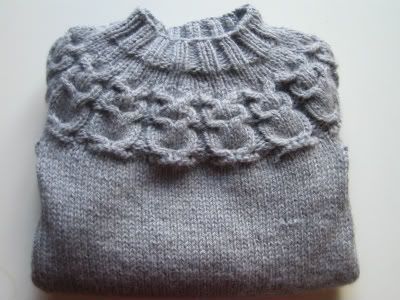 I love this pattern with a passion, it's so simple but so effective, I'm planning on knitting one for myself and my Mum this year. Sadly I didn't manage to get any photos of it on, but maybe Vicky will take one at some point! I'd like one in a tweedy green for me and I'm planning a raspberry or paler pink version for my Mum. I'm going to get some
New Lanark wool
for both projects I think!