I'm back from 2 weeks in the Highlands on placement with a horse vet. It was amazing, I got to see and do loads of things and the people up there are all lovely. The countryside is amazing as well, it's nice to be a passenger in a car for once and get to enjoy the views!
Anyway, just a quick one since my folks are arriving for a week any second now. I might not get to blog much this week but normal service should resume next week so watch this space...
In the meantime, here are some thrifty finds from Inverness. I bought this fabric (plus some secret baby things for Baby Maciver!) from a community centre thrift sale, all this for £1, bargain! So much for the one-in-one-out pledge when it comes to my fabric stash, I just can't say no to a thrifty find!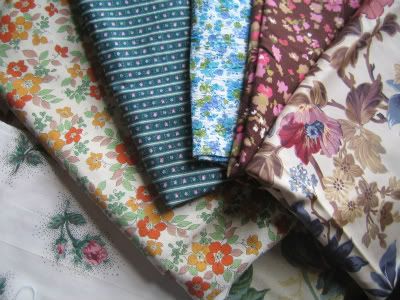 Here's a sneak preview of an Andrew find, I'm not sure if I like it that much just yet but given the amount of rubbish we have in the house that belongs to me, I could hardly say no. Still, it may yet grow on me. More photos to come once it's assembled and in its rightful place (which sadly is not the bin downstairs...not the attitude Amy...)