Well, I'm back. I spent 3 days at the horse conference, which was really interesting but tiring (though the place we were staying had a boxer and a dogue du bordeaux so that was pretty amazing!) then was back to the Burgh with my Mum in tow for a week of family fun, staying with my grandparents. I got back to my flat on Sunday night, tired and filthy from helping clear Grandad's garage, to find Andrew's folks had arrived and are here until Friday. It's all go in Bruntsfield apparently!
On top of this, I'm back to uni and am still sans-computer (though it was ordered last night so should be winging it's way here even as we speak!).
I've been a bit remiss at taking photos recently but I have plant-related updates, garage finds and the finally-finished
Simplicity 2656
to show you all. I've started making Christmas presents and have ordered the wool for Andrew's birthday mittens (
Transformers mittens
, watch this space!) and
Mum and Dad's cabled aran blanket
(lets see if that gets made in time!),
In the meantime though, Jessica and I recently visited
New Lanark
, a World Heritage Site about 45 mins outside of Edinburgh (or would be, if my Sat Nav wasn't a pile of shizah). It is beautiful, nestled in a valley beside the River Clyde. It's an 18th century cotton mill village and has been perfectly preserved, you can go into the houses and see what it was like to live there 150 years ago. The main reason we went though is because they still make their own wool and all the proceeds from wool sales go into restoring and maintaining New Lanark. You can order online
here
and I would definitely recommend it, the wool is really cheap and you'd be supporting a good cause ( = guilt free wool shopping!). It's all cobbled streets and gorgeous sandstone buildings, I bought enough wool to make a cardigan (which I started, realised was too small, frogged and Jessica persuaded me to knit a guage square so hopefully it's right now).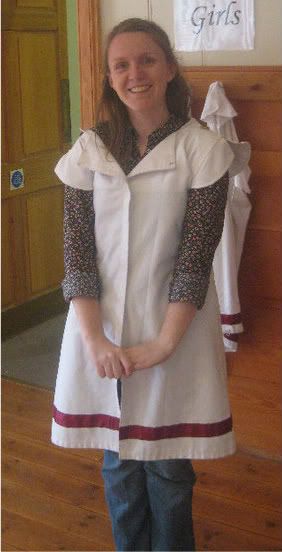 Anyway, here's a photo of me in the New Lanark school wearing a school tunic from back in the day (Jessica and I spent a fun 20 minutes drawing on the slate boards and checking out the GIANT globe). More craft photos to come, once I've got myself organised!