I'm so in love with these gloves! They took me 3 attempts (one of which involved putting the right thumb on the wrong side, leaving me with 2 left gloves) but they're going to be totally worth it, I (almost) wish it was cool enough at the moment for me to wear them!
They were a pattern from Ravelry,
Kat's Chunky Cabled Gloves
. It was a bit daunting starting them as the only other pair made on Ravelry were by the author. Normally I like patterns were thousands of people have made it before me, meaning if I get stuck I can look at other people's notes.
I'm pretty proud of these though!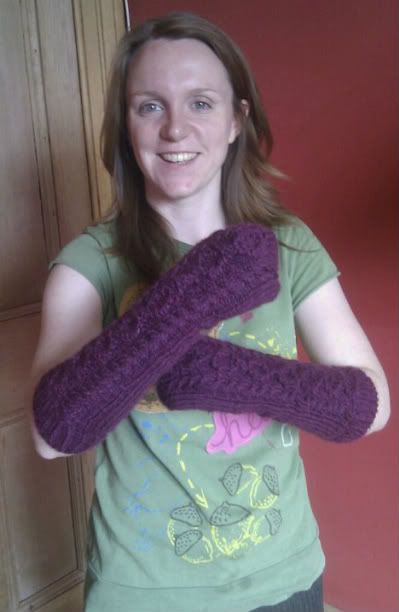 In other news I'm still struggling on with my Simplicity skirt (
2656
if anyone is interested). I wish I'd checked reviews before I bought it, I've now realised that I'm not the only one struggling with it. Still, I'm a cunning fox and have made this one in cheap cotton that I don't really care about so if I have to abandon it, I won't have lost too much. I'll keep you updated!