I've been going through a phase recently of buying suitcases from charity shops. I don't mean natty old suitcases, I mean vintage old-fashioned looking, waiting-on-a-steam-train-platform-for-your-lover-to-return-from-the-war type cases. I need to take photos to show you all but sadly studying keeps getting in the way, by the time I get round to taking photos it's dark and the light in my room is appalling, I'm turning slowly into Gollum in the shade.
Anyway, here's some delicious cases I found on Etsy, I'm planning on getting one for my brother for his birthday, he loved my newest leather find so I feel the need to spread the suitcase love. Photos of mine-own to follow!
I love this one by
HappyDayVintage
. I love green, it's definately my favourite colour and the rounded edges and quilted inner definately sells this one to me.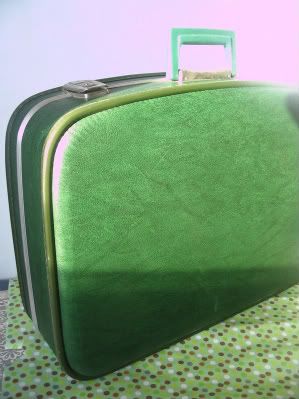 Oh my gosh, I'm actually in love with this one from
JohnnyVintage
. It even has a tray inside for all your little travel items, powder compacts and the like.
Tweed AND leather in one wonderful case? How could I resist! This one is just gorgeous from
BackThennishVintage
, I've just got to find one in my (rather meagre) price range now...